Champion 73536i 2000w
Champion 2000w Inverter Generator


---
Champion's 73536i 2000w Inverter Generators are the best choice when it comes to delivering power to sensitive equipment. The inverter generator delivers pure sine waves which are cleaner and more reliable than most generator power sources. Champion's Inverter Generators are also lighter and quieter making them a great fit for RV owners. We tested the 2000w generator outside our RV and with the RV door closed we could not hear the generator at all. Surprisingly the 73536i generator ran our Coleman Mach III Power Saver 13,500 btu air-conditioner. As long as we first put the air-conditioner onto fan mode and waited about 30 seconds before switching to A/C mode, the generator ran the A/C with no problems.
The 73536i generator delivers 2000 watts peak power and 1700 running watts. It weighs in at 48lbs and has the ability to be stacked. When two units are stacked together you will have 3000w of power available. An optional 73500i parallel power kit is available to fit between the two stacked units. This kit provides a 30 amp outlet for plugging in your RV cable.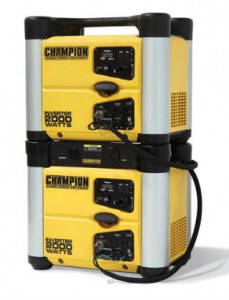 The 73536i's Rugged Package Design
We really like the design of this Champion generator as it fits easily into tight spaces while being able to be carried easily. The Economy Mode allows the unit to run at idle when only a few amps of power is being drawn. This provides more fuel economy and also reduces the noise levels considerably. As soon as a load is put on the generator it will power up to supply the required power. The unit also comes with a 12v charging cable and has the built in capability to charge 12V batteries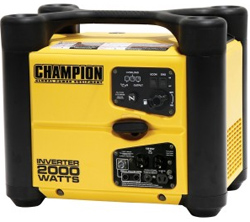 Engine and Fuel
The 73536i has a 4 stroke engine with 80cc displacement and a Overhead Valve design. The engine runs reliably and has great heat dissipation allowing optimal fuel consumption.
The 1 gallon fuel tank will allow approximately 9 hours run time at 1/4 load.
This 2000w generator has a recoil start system which is very easy to use and the unit normally starts first or second pull.
The decibel rating for the 73536i is a quiet 52 dBA at 1/4 load.
The muffler contains a USFS approved spark arrestor.
An easily detachable side panel provides oil change and spark plug access. The air filter and spark arrestor are accessed via a side cover after removing the panel screws.
Front Panel Outlets and Indicators
On the power panel can be found the on/off switch, economy mode switch, breaker, choke, fuel on/off switch, overload indicator, low oil indicator and output indicator. There are two 120v outlets and a circuit breaker.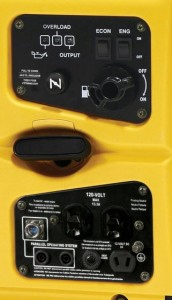 Included in the Box

Champion 73536i Inverter Generator
Instruction Manual
DC Battery Charging Cord
1 Qt. Oil
Oil Funnel
Spark Plug Wrench
Dimensions:
16.3 Inches
13.2 inches
19.3 inches
Weight:
48.5 lbs. (20 kg)
Price:
We have seen prices range from $499.00 to $699.00 on this generator.
Click here for Amazon Price
Also Available:

The Champion 75537i 3100w Inverter Generator with remote start.
This is a wheeled unit and its price averages approximately $800 - $1000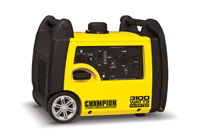 ---
Below is a short video showing the features of the generator

Other suggested Articles:


When Your RV Shocks You
Tire Pressure Monitoring System with Heat Sensing