Fifth Wheel Kayak & Bike Racks
The Total Solution To A Bulky Problem

As a Fifth Wheel RV owner you have probably found that when it comes to trying to find a solution to carrying all of the toys, there are not many options available.

Lakes and waterways are a part of the outdoor adventures that Fifth Wheel owners want to be able to enjoy. But being able to transport such bulky items as kayaks or even surfboards provides a challenge and when you include bikes then it really becomes a problem.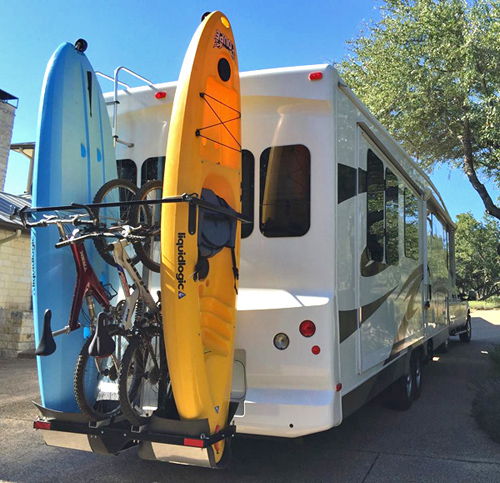 The Solution
RV Kayak Racks has come up with a total solution for transporting both bikes and kayaks or surfboards safely. The rack mounts to your hitch receiver at the back of your RV. If you do not have a hitch, you can have one installed fairly easily. The rack only installs to the hitch so there are no mounting points required anywhere on the Fifth Wheel.

RV Kayak Racks can design your rack to accomodate for a ladder or spare wheel that you might have on the back of your RV. If you have a backup camera fitted to the center of the rear of your RV it will not be blocked by the rack.

A clamping block is provided with the rack that eliminates movement of the rack while your RV is in motion. The rack is manufactured from steel tubing and powder coated for a long life. Installation is simple and all instructions are provided.
To keep your bikes and kayaks safe a locking cable is provided to prevent theft.

For more information go to:
RVKayakRacks.com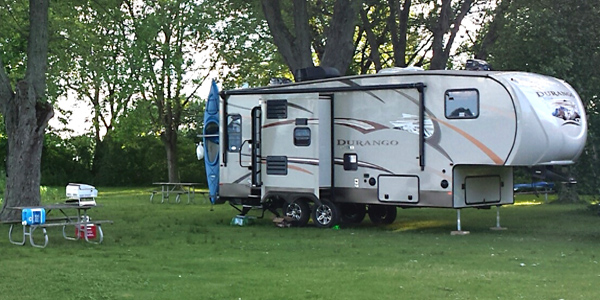 Below is a video showing how easy it is to off load the kayaks from the rack.





Other suggested Articles:

When Your RV Shocks You
Frequently Asked Questions
Tire Pressure Monitoring System with Heat Sensing